Andy C Chats NYC's Drum & Bass History Before Shelling Avant Gardner
While Avant Gardner and The Brooklyn Mirage have planted their flag in New York nightlife by bringing attracting some of the freshest names in techno and house, the sprawling East Williamsburg compound has solidified its position as the premier dance music destination in the five boroughs by expanding its scope to incorporate the most well-respected artists from a myriad of genres. Last month living drum & bass legend Andy C brought the house down in front of a sold-out Kings Hall crowd with MC Tonn Piper.
For over two decades Andy C has pushed the envelope in DnB and has served as a pivotal tastemaker in the genre. From playing all across the world at festivals and venues in every city to founding the tremendously successful imprint Ram Records, there is perhaps no greater ambassador for drum & bass than Andy C. Before hitting the decks the UK native made time to take a few of our questions and give us some insight into his musical journey.
What we came to learn in our short time of interacting with Andy was that there's a reason why this guy is as beloved and revered as he is. Blessed with an easy-going demeanour and a grin that could light up a room, Andy C brings an undeniable effervescence and infectious energy that has made him connect with fans all across the globe.
On the night, Andy C unleashed the type of set that has made him an icon in the scene. The veteran brought an unrelenting, adrenaline-fueled performance that left the crowd at Avant Gardner stunned, inspired and grateful. Andy flexed his muscle dropping tunes that would send goosebumps up the spine of any drum & bass lover like Pendulum's "Tarantula," Sub Focus' "Out The Blue" and his own remix of Tom Walker's "Not Giving In."
The set was tremendous as evidenced by the beaming faces of the crowd, but it was the short time we spent talking to Andy C about the music he lives for as much as his beloved West Ham. In our conversation with Andy, we chat about his first time playing in New York City, his love for festival season and what it was like founding what would be a global phenomenon at the age of 16.
Sensible Reason: As a pivotal figure in the drum & bass scene for years now how do you continue to stay inspired and dedicated to doing as much as you do?
Andy C: My inspiration, first and foremost, is the music and the crowd and those two things that combine and the way they interact together. It's such a beautiful thing, when our music, the drum & bass takes people, the vibe and energy it can create in any environment. Last night we were at EDC in Las Vegas, which was incredible, and then tonight we can come here to New York for a club show, and it's going to be down and dirty and it's going to be vibin', and it's going to be exactly what the core of DnB is about.
Honestly, I'm in a very very lucky position, to be doing this, so as long as I can I will do it. The inspiration to keep going comes from when your out and on the road with the lads and you're having fun, I mean there are a lot of good times to be had there are worse ways I could spend my time. (laughs) Drum & Bass is such a passion of mine, so as long as people are enjoying it. that's the main thing.
SR: Doing what you love?
AC: Exactly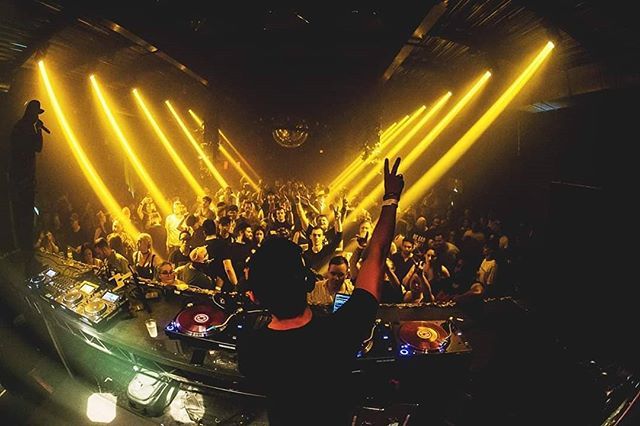 SR: When you perform live, you bring an energy and intensity that few artists can resemble. What in your words goes into a really great set?
AC:  First of all you have to hit the ground running. I always think when I'm starting "Come on let's go." And then for me its about settling in and finding your zone with the crowd and at the same time knowing that you can surprise them and enjoy the energy. You know I like to enjoy a set like I'm a raver, I'm jumping up and down like I'm on the dance floor.
What goes into a good set? `Well, some sets obviously are better than others. I can't explain it, there's an interaction you get with the music, the crowd and the dance floor. I'll be five-six songs ahead and it doesn't matter where I go. I can head for the stars with some bangers or I can take it emotional, or we can really get at it, and for some reason whatever you think whatever vibe you want to create, it just works, and that' just a magical zone to be in. I wish I could get that everywhere, but it's such a beautiful thing especially when you play the longer sets. You really get to express yourself more, and I prefer the longer sets, I really feel like I don't get to enter that zone with the shorter sets.
SR:  With festival season coming up I was wondering how you view it. Like do you really look forward to it every year or is it something you know you have to do and it's just part of the life?
AC: I really enjoy the festival vibe, because there's an excitement and a sort of innocence to it, you know? Everybody's there to enjoy all these different genres, and time with their friends, people find out new music they may never have heard before. Then when night's falling and the lights of the festivals start, that's when that magical zone comes back and the goosebumps start, you start to have really magical experiences.
It's a great coming together experience and it reminds me when I used to go out early doors at festivals. When I was younger the daytime bit would all be about catching up and then night falls and you hear something from a tent off into the distance and you want to go check out, that's why I love festivals.
SR: When you first started Ram Records did you envision that it would become the institution that it is today?
AC: No never! I never envisaged anything like what its become. Obviously, I was only 16 when it started and it was just a dream a conduit, because back in those days I had my hero record labels for me were Reinforced, Moving Shadow, Suburban Bass, Formation, those were the type of record labels I buy from right on the spot. So for me starting a label back then, you know the dream was to one day get there.
But, it really took on a life of its own, because of not only the crew we had back in the day but when you discover big artists that become Chase & Status, Sub Focus and Wilkinson, then its no longer about a group of guys making tunes its Oh now we're signing artists, and these artists are taking the scene by storm. Yeah when those artists like Sub Focus start to come out that's when the label really changed its energy and we said "all right, we really have to push this now and push these artists albums."
SR: Finally, what's it like for you to perform here in New York and how has the NYC drum & bass scene evolved since you've been playing here?
AC: New York was one of the first ever cities I visited in the US. I came on a tour with Randall, Darren Jay and GQ and that must've been… a lot of years ago (laughs). New York is one of my favorite cities in the world, it's such a magical place. I was saying to the guys when we rucked up we just came in from Las Vegas and you can't get a bigger juxtaposition. You know we get in and sit down at a restaurant in Manhattan and there's a bit of Stevie Wonder playing with all the cars in the streets, man and it brings up these emotions. You know coming from the UK it always feels really really special and it holds a special place in my heart. So to be able to come back and it's 2019 still bringing drum & bass, and its sold out tonight it's gonna be a vibe. A lot of people are coming out I've got a lot of friends coming out and obviously there's going to be some new crowd coming out. If you would've asked my younger self when I was on that first tour I'd be here in 2019 playing for a sold-out crowd, I wouldn't have believed it. So I couldn't be happier.