NYC Winter Jazzfest To Celebrate 10th Anniversary In Style
After the hyperbolic musical offerings in New York City leading up to New Year's Day, January can often seem a bit of a lull. For the past decade, NYC Winter Jazzfest has sought to alleviate that post-holiday malaise with expansive lineups featuring both familiar names and unknown virtuosos. Though options always abound in our metropolis, the sheer extent can be daunting and Winter Jazzfest always presents an excellent crash course in contemporary music rooted in the rich traditions of that pliable national musical heritage.
For the decennial edition, the festival has gone above and beyond previous incarnations, joining forces with various likeminded entities to puton a weeklong slate of shows across Manhattan. Nearly 100 acts will converge on 10 venues over 5 nights in what promises to be a musical marathon of epic proportions.
The festival kickoff on the first Tuesday night of 2014 at home base Le Poisson Rouge features longtime downtown jazz scene drummer Bobby Previte leading his TERMINALS group with assistance from guitarist Nels Cline of Wilco and beyond, keyboard wiz John Medeski, and the drum-anything experimental collective So Percussion.
For Wednesday night, the fest decamps uptown to Town Hall and joins forces with iconic jazz label Blue Note Records for that institution's 75th anniversary. The label's first release back in 1939 featured two pianists, Albert Ammons and Meade Lux Lewis, and this concert will feature two contemporary pianists, Robert Glasper and Jason Moran, paying tribute to that album, with guests Ravi Coltrane, Bilal, Eric Harland, and Alan Hampton.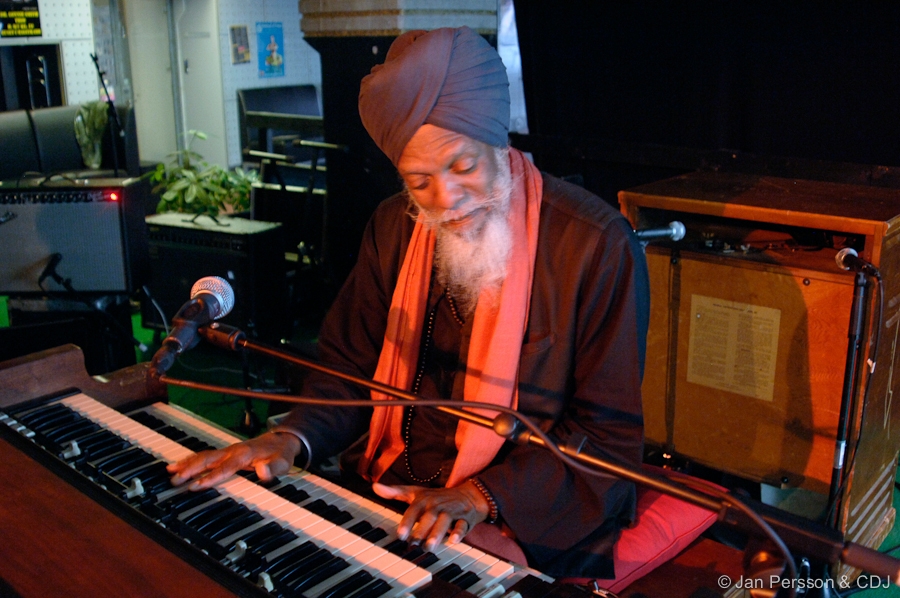 The fest returns to LPR for Thursday night's event, which is presented in conjunction with SummerStage/Charlie Parker Jazzfest, and continues the Blue Note Records anniversary celebration with Revive Big Band augmented by the organ wizardry of Dr. Lonnie Smith and the silky vocals of Bilal. The Wallace Roney Orchestra will also be performing some Wayne Shorter selections composed for Miles Davis, but never released.
The meat and potatoes portion of the festival comes on Friday and Saturday, when upwards of 80 bands converge on downtown venues, from Greenwich to the Bowery, in a nonstop nightly reverie of performances. A veritable choose your own adventure smorgasbord of live music to satiate the discerning palettes of all but the most jaded traditionalists, these two nights are a consistent annual highlight in a city with spades.
Stay tuned to Sensible Reason for Winter Jazzfest 2014 Artists Not To Miss in the coming weeks.
Check out our coverage of Winter Jazzfest 2013 HERE and Winter Jazzfest 2012 HERE.
Peruse the entire lineup below, and click HERE for tickets and additional info.
3rd Eye 4tet: McPherson, Waits, Burton, Hurt
Abraxas
Angelika Niescier
Antoine Roney Trio featuring Kojo
Aruan Ortiz Orbiting Quartet
Ben Goldberg's Unfold Ordinary Mind
Ben Holmes Quartet
Ben Wendel Quartet
Big Chief Donald Harrison & Congo Square Nation
Big Yuki
Blue Cranes
Bobby Previte's TERMINALS feat. John Medeski, Nels Cline & So Percussion
Burnt Sugar Arkestra Review featuring Melvin Van Peebles/Rebellum/Steely Dan songbook conducted by Vernon Reid
Ches Smith Trio
Chris Lightcap & Bigmouth
Chris Morrissey Quartet
Craig Handy
Darcy James Argue's Secret Society
Dawn of Midi
Don Byron's Six Musician Group
Elliott Sharp's Orchestra Carbon
Endangered Blood
Erik Friedlander's Bonebridge
EYEBONE w/ Nels Cline and Jim Black
Freedom Party DJ Herbert Holler
Gary Bartz Quartet & Friends
Gizmo w/ special guest Casey Benjamin
Gregoire Maret With Terri Lyne Carrington
Gretchen Parlato
Helado Negro
Henry Threadgill's "Ensemble Double-Up" In Remembrance of Lawrence Butch Morris
Howard Johnson & Gravity
Hypnotic Brass Ensemble
Jacob Fred Jazz Odyssey
James Brandon Lewis
Jamie Baum Septet +
Jason Moran
Jazz Passengers
Jeff "Tain" Watts & Lionel Loueke
Jon Irabagon Trio
Keren Ann
Kris Bowers Group
Lakecia Benjamin & Soul Squad
Marc Cary's Focus Trio
Marc Ribot's Ceramic Dog w/ Mary Halvorson
Mark Guiliana's Beat Music
Mark Helias Open Loose
Mary Halvorson Septet
Matt Ulery's Loom
Matt Wilson, Ted Nash, Jesse Lewis
Matthew Shipp Trio
Meklit
Melissa Aldana & Crash Trio
Michele Rosewoman's New Yor-Uba
Miles Okazaki Quartet
Morgan James
Mostly Other People Do The Killing
Mother Falcon
Nat Baldwin
Nate Wooley's Seven Storey Mountain
NEXT Collective
Nir Felder
No BS! Brass
Now vs. Now
Otis Brown III f. Special Guests
Peter Brötzmann
Ralph Alessi Baida Quartet
Raul Midon
Ravi Coltrane
Rene Marie
Revive Big Band
Robert Glasper
Roman Diaz & Midnight Rumba
Roomful of Teeth
Round Robin Duets
Roy Hargrove Quintet
Rudy Royston 303
Sharel Cassity Quintet
Slavic Soul Party! plays Ellington: the Far East Suite
Somi
Sylvie Courvoisier – Mark Feldman Duo
Takuya Kuroda
Ted Poor Quartet
The Jeff Ballard Trio w/ Lionel Loueke and Miguel Zenon
Theo Croker
Thiefs
TILLERY featuring Rebecca Martin, Gretchen Parlato and Becca Stevens
Tim Berne Snakeoil
Tongues in Trees
Tony Malaby's Tamarindo
Trio Feral
Wallace Roney Orchestra
Wicked Knee
Zee Avi