Under 20 Underground 2.27.14
This week's installation of Under 20 Underground will highlight some of the best dance parties New York has to offer this weekend. If you are looking for something that will take you off the beaten path and give you some awesome stories for Monday morning, we've got you covered.
Kill Paris and Candyland at Webster Hall 2.28.14
Cost: $20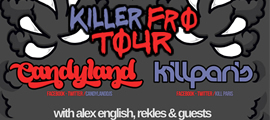 This next event might be right on the cusp of our monetary limit, but trust me, you won't want to miss the Killer Fro Tour's takeover of Webster Hall this Friday night. OWSLA future soul pioneer Kill Paris will be joining forces with  the up and coming DJ/Producer duo Candyland. This show is going to be a funk-filled night to remember with these one-of-a-kind acts hitting the stage. Kill Paris has distinguished himself as one of the best new artists in electronic music. He blends classic funk and R&B with new age bass music to create his own brand of future soul. With this uncanny ability, Kill Paris transforms dance floors into groovy time machines that will have you bouncing on cloud 9. Ethan Davis and Josie Martin, better identified by their stage name Candyland, are known for going big just like Josie's massive afro. This rising duo from Santa Barbara have been making a name for themselves by pushing out some absolutely banging remixes of artists like Knife Party, Major Lazer, Skrillex and Bingo Players. These guys have been torching crowds at festivals, and they just landed a residency at Las Vegas nightclub, Marquee. These two heavyweights are teaming up to absolutely smash Webster Hall tomorrow night, so grab your tickets here.
Sinjin Hawke with support from Thriftworks, P. Morris and Subset at SRB Brooklyn 2.28.14 
Cost: $15
SRB Brooklyn is gearing up for a huge show Friday night. This lineup is stacked with quality artists from top to bottom, and if you're looking to attend a dance party that doubles as an art show, this is the event for you. Sinjin Hawke is widely regarded as one of the most innovative artists in electronic music today. He is known for crafting some of the most metamorphic beats by blending elements of two step, R&B, and hip-hop. There will also be a space age 3-D mapping art installation, inspired by Sinjin Hawke's most recent fractal fantasy project, on display just in case you want to take a break from dancing and enjoy some futuristic art. Sinjin's supporting cast of P. Morris, Thriftworks, and Subset will be keeping the party going from start to finish, bringing some of the best experimental downtempo and dub tracks with them. If you're looking for a space age step out of reality this Friday night, find your way to SRB. Grab you tickets here.